Aritsugu
Aritsugu Tsukiji Tokyo
80% of the Aritsugu's knives are come with curved blade as de.
we will try our best to adjust it but can not avoid this problem .
If customer have a strict require on this ,please dont purchase Aritsugu's Knife .Sorry for the incovennience .
Recommended for a Head Chef; good sharpening sk...
Recommended for Either a Junior Chef or Head Ch...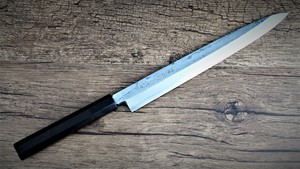 Recommended to chef or Profession chef
Shopping Cart
You have no items in your shopping cart.