VG10, 33-Layered Damascus
VG10, 33-Layered Damascus
Sakai Takayuki's VG10 line sports a blade steel crafted out of VG10 and is designed/fortified with 33-layers of folded steel, also known as "Damascus", and styled with austere and patterned hammer strikes. VG10 is a stainless steel that possess an HRC (hardness) ranging from 60-61, making it a relatively hard steel. The blades in this series require good sharpening, so they need to be serviced by either a user who can sharpen well or by a professional knife sharpener. VG10 knives are highly ware-, stain-, and rust-resistant knives, so they are easy to maintain; they are also fortified, thereby have an increased hardness and improved edge retention. These VG10 knives sport a red pakkawood handle embedded with a stainless steel bolster.
Recommendation: Sakai Takayuki's VG10 line is best for chefs and intermediate-level cooks with good sharpening skills. Even though VG10 is a stainless steel it is of that variety that is harder than other stainless steels, so good sharpening ability is necessary in order to maintain its edge. Additionally, knives that use VG10 for their blade steel are wear-, stain- and rust-resistant, making knife maintenance a breeze.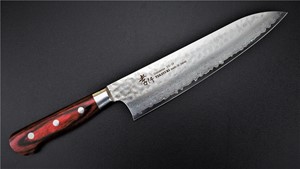 Recommended for Either a Junior Chef or Head Chef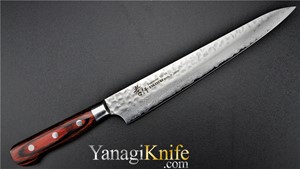 Recommended for Either a Junior Chef or Head Ch...
Shopping Cart
You have no items in your shopping cart.