Super Ao-Ko Mizu Honyaki
Sakai Akazawa's Super Ao-Ko Honyaki line sports a blade steel crafted out of Super Blue Steel (SBS). Super Blue Steel thought to be one of the greatest blade steels available on the market for a variety of reasons. Firstly, SBS has a higher carbon, chromium, and tungsten content than Blue Steel No. 1 (BS1); thereby, making it harder, more stain-/wear-resistant, and more abrasion resistant than BS1, which is already esteemed/known for having a high-level of those capabilities (BS1 and SBS are not stainless steels). SBS has excellent edge retention and edge sharpness, and all while being flexible and durable considering its HRC. Sakai Akazawa's Super Ao-Ko knives are of a "Honyaki" variety, which requires advanced forging and tempering knowledge in order to achieve. The knives in this series all come with a traditional, octagonal hardwood handle.
Recommendation: Sakai Akazawa's Super Ao-Ko Honyaki line is recommended for professional chefs, cooks and kitchens because its knives require advanced knife maintenance and sharpening skill/knowledge.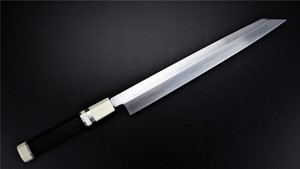 Recommended for a professional chef or knife co...
Shopping Cart
You have no items in your shopping cart.