Ao-Ko Suminagashi
Sakai Akazawa's Ao-Ko Suminagashi Hongasumi line sports a blade steel crafted out of Blue Steel (BS), a high-carbon steel, often with an HRC ranging from 62-63 and that is also more abrasion resistant than its white steel counterpart. While the blade steel of the knives in this series are very hard and difficult to sharpen they keep their edge for a long time, making them practical knives that are an asset to the professional chef or cook. This knife series is distinguished from Sakai Akazawa's other high-carbon steel lines in that its blade steel is of a "Damascus" variety. A "Damascus" design is created on a blade steel by folding and layering many steels together during the forging process and acid-etching the forged blade steel until a "Damascus" pattern/design is revealed on its surface; "Damascus" designs add a lot of aesthetic value to the blade steels, and therefore knives, that are composed of them. Additionally, because these knives are "Hongasumi" knives, they are forged with more deliberation and care to remove impurities during the forging process, making them even more refined than "Kasumi" knives. The Ao-Ko Hongasumi knives sport a traditional-style, hardwood handle embedded with a buffalo horn bolster for balance.
Recommendation: Sakai Akazawa's Ao-Ko Suminagashi Hongasumi line is recommended for professional chefs, cooks and kitchens because they require advanced knife maintenance and sharpening skills. Additionally, the blades of the knives in this series rust when exposed to air and water and must be dried properly before being put away.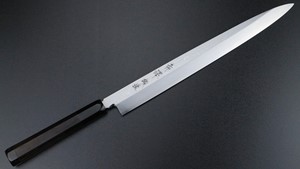 Recommended for Either a Junior Chef or Head Ch...
Shopping Cart
You have no items in your shopping cart.